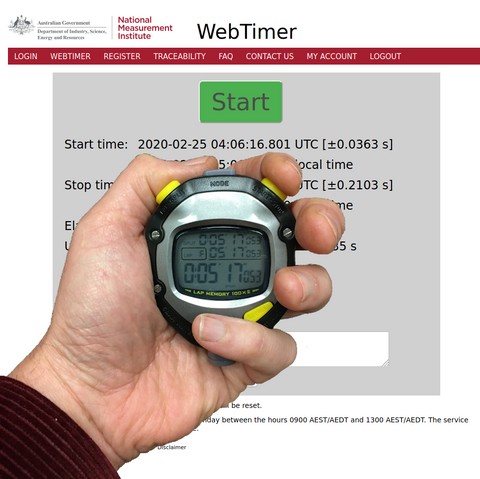 WebTimer - Annual Subscription
5000

(includes shipping and handling)
---
---
*** DO NOT SELECT "TAX INVOICE" AT CHECKOUT ***
If you do, your credit card payment will not be processed. The tax invoice is automatically generated if you pay by credit card, and will go to the email address you provide.
If you cannot pay by credit, please choose the Tax Invoice button (only if credit card payment is not possible):
We will confirm that you wish to have an invoice for payment purposes, and if so you will be sent an email with it when it has been issued. When you pay the invoice you will also need to send a remittance advice to NMIAdministrator@measurement.gov.au so we can process your WebTimer.
NMI's WebTimer provides time interval measurements via the internet that are traceable to the Australian national standard. It can be used for checking stopwatches, for example.

Please register for a WebTimer account and use the same email address for payment as the registered email for your WebTimer account.
There is no need to log into the shop at checkout (shop.measurement.gov.au), and your WebTimer login will not work here.
Your account will be activated after payment is confirmed (usually within five minutes).

You must pay the subscription within 30 days of registration.
A single account and subscription may be shared by multiple users within a single organisation.
For more information, including terms and conditions, go to https://webtimer-syd.nmi.gov.au or contact time@measurement.gov.au.