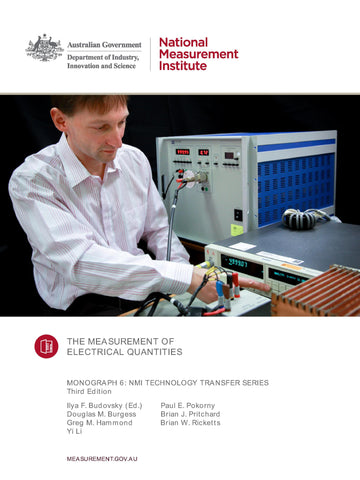 Monograph 6 The Measurement of Electrical Quantities
6700

(includes shipping and handling)
---
---
(2009, third edition) Ilya Budovsky et al, 140 pp
The monograph describes principles and techniques of the measurement of electrical quantities (direct and alternating voltage, direct and alternating current, resistance and high voltage), particularly with the use of digital multimeters (DMMs) and calibrators. The emphasis is on the techniques of reliable measurement and this necessarily involves a detailed discussion of the systematic errors that affect the measurement of electrical quantities as well as the principles of operation of DMMs and calibrators. Also discussed is the calibration of DMMs and the calculation of the uncertainty of calibration. The monograph gives an introduction to the primary standards of electrical quantities.
Please note, a tax invoice will automatically be emailed to you after the credit card payment goes through. Do not tick the tax invoice button if paying by credit card. For those who require an invoice to make a payment, please choose the relevant option after checkout.
For more information contact +61 2 8467 3796 or training@measurement.gov.au.