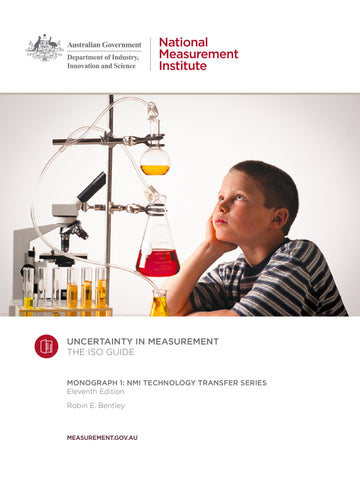 Monograph 1 Uncertainty in Measurement: The ISO Guide
6700

(includes shipping and handling)
---
---
(2005, eleventh edition) Robin E. Bentley, 108 pp
A user-friendly discussion of measurement uncertainty and its calculation using the ISO Guide to the Expression of Uncertainty in Measurement. It gives a broad perspective of the topic that would be generally applicable to all fields of metrology. To this has been added much practical advice on the application of the Guide to real situations, and at all times the intention is to help the reader keep things in perspective and to develop a healthy attitude to error management. Equally, it gives the reader a 'feel' for the concepts and workings of the Guide — often referred to as the GUM.
Please note, a tax invoice will automatically be emailed to you after the credit card payment goes through. Do not tick the tax invoice button if paying by credit card. For those who require an invoice to make a payment, please choose the relevant option after checkout.
For more information contact +61 2 8467 3796 or training@measurement.gov.au.