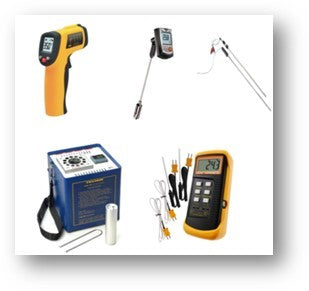 Temperature measurement
3,50600

(includes shipping and handling)
---
---
IMPORTANT INFORMATION FOR NSW BUSINESSES
As an Investment NSW's Boosting Business Innovation Program partner, NMI is offering

 
NSW businesses a subsidy of 75% of the course value, up to a maximum of $1,100 per participant, 
for up to 4 participants from one business.
Contact training@measurement.gov.au for more details

 

PRIOR TO

 

enrolling. Other

 

conditions

 

apply. 
Please note, a tax invoice will automatically be emailed to you after the credit card payment goes through. If you don't receive it, check your Junk inbox. Do not tick the tax invoice button if paying by credit card. For those who require an invoice to make a payment, please choose the relevant option after checkout.
This three-day course (9 am to 5 pm) covers the measurement of temperature and the calibration of temperature measuring instruments. It incorporates extensive hands-on practical exercises. Please find the link to the brochure here.
NOTE: Participants with limited experience in estimating measurement uncertainty would benefit from first attending the Introduction to Estimating Measurement Uncertainty course.
Knowledge and skills
The course will provide you with the knowledge and skills to:
understand the principles of operation of common temperature sensors and their instrumentation, especially thermocouples and resistance, radiation and liquid-in-glass thermometers
employ suitable processes for calibrating and using temperature measurement equipment 
identify various sources of error that affect temperature measurements
develop the technical understanding required to become a NATA signatory
Topics
The topics covered include:
physics of temperature measurement
temperature scale, traceability and international standards
thermocouple electromotive force, measurement and calibration 
properties of thermocouples and systematic errors
infrared and general radiation thermometry and their application
errors and calibration in radiation thermometry
calibration baths and furnaces
digital thermometers 
resistance thermometry: associated errors and calibration 
enclosure testing (multi-site measurements)
liquid-in-glass thermometry
estimating measurement uncertainty
extensive hands-on practical exercises in measurement
Past Attendees have said...
"I have gained a better understanding of calibration and temperature measurement techniques"
"We have a better understanding of thermocouple theory and will help us to achieve better measurements"
Further information
Training delivery is subject to participant numbers. A confirmation email will be sent to each participant 2 weeks prior to the course date. We suggest you book your travel arrangements after receiving this course confirmation email.
For more information contact +61 2 8467 3796 training@measurement.gov.au.
or
View more Training and Assessments.