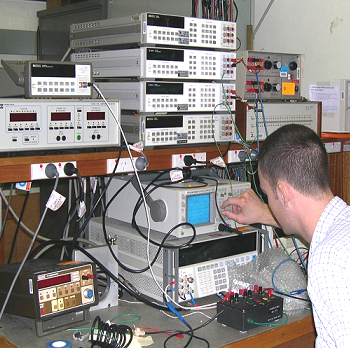 Electrical measurement - ONLINE & FACE-TO-FACE DELIVERY OPTIONS
2,66300

(includes shipping and handling)
---
---
IMPORTANT INFORMATION FOR NSW BUSINESSES
As an Investment NSW's Boosting Business Innovation Program partner, NMI may be able to offer

 
NSW businesses a subsidy of 75% of the course value, up to a maximum of $1,100 per participant, 
for up to 4 participants from one business.
Contact training@measurement.gov.au for more details

 

PRIOR TO

 

enrolling. Other

 

conditions

 

apply. 
Please note, a tax invoice will automatically be emailed to you after the credit card payment goes through. If you don't receive it, check your Junk inbox. Do not tick the tax invoice button if paying by credit card. For those who require an invoice to make a payment, please choose the relevant option after checkout.
This course provides in-depth knowledge of the theory and practice of electrical measurement using digital multimeters and calibrators; special attention is given to important practical issues such as grounding, interference and thermal effects. The course is most suitable for those already familiar with electrical measurements using digital multimeters and calibrators, as well as with the estimation of measurement uncertainty, wishing to further advance their knowledge and skills. Please find the link to the brochure here.
NOTE: Participants with limited experience in estimating measurement uncertainty would benefit from first attending the Introduction to Estimating Measurement Uncertainty course.
Course will start at 9 am and will finish by 5 pm.
Location:             NMI, 36 Bradfield Rd, Lindfield, NSW, 2070
Knowledge and skills
The course will provide you with the knowledge and skills to:
understand the principles of operation of digital multimeters and calibrators
understand the principles and advanced techniques used in the measurement of electrical quantities
understand the processes involved in the use and calibration of electrical equipment
identify various sources of error that affect electrical measurements
Topics
The topics covered include:
overview of primary standards
measurement of resistance
principles of operation of digital multimeters and calibrators
measurement of direct voltage and current
principles of calibration
measurement of alternating voltage and current
measurement of high voltage
reporting calibration data and uncertainties
estimating measurement uncertainty
Past Attendees have said...
"By applying the knowledge gained in this course, we will greatly improve our measurement processes"
"Increasing our knowledge of measurement uncertainties definitely helps with our NATA accreditation"
Further information
Training delivery is subject to participant numbers.
A confirmation email will be sent to each participant 2 weeks prior to the course date. We suggest you book your travel arrangements after receiving this course confirmation email. Training materials will be provided as hard-copies on the day of the course.
For more information contact +61 2 8467 3796 training@measurement.gov.au.
or
View more Training and Assessments.